MATERIAL USED
The core is made from cross-linked polyethylene foam.  The top layer is
polypropylene carpet. All layers are properly laminated and well bonded.
MORE
Cross-linked polyethylene foam with closed cell structure is of higher quality and is more expensive than a foam with open cell structure. There is a minimal permanent deformation, it means that is not trampled underfoot. In our production, we use softened foam, which is flexible, soft and the most appreciated for exercising.
Needle-punched polypropylene carpet has a firm base layer, which guarantees strength of the whole carpet, it is not prone to tearing. The fiber itself is not coloured on the surface, but pigment is already a part of fibers, and it guarantees colour fastness, the colour does not change with time, it does not scuff or fade.
COLOUR
The standard colour of the carpet is blue.
If you wish, you may choose from a range of different colours. The standard colour of the foam is grey.
If you wish, you may choose
a different colour, conditions to be negotiated.
MORE
The best selling colour of gymnastic carpet is sky blue in combination with grey foam. When you buy in bulk you can choose any colour you like. Last year, we produced gymnastic carpets for a place with climbing walls, and they have chosen grey carpets and grey foam. This combination has appealed to customers. Anthracite shade of grey is pleasant to look at and easy to maintain. Since then we have grey carpet commonly in stock.
Other popular colours of carpets as well as of foams are yellow and red. We are happy to supply any colour with minimum order of 14x14m with a surcharge of 10% for pigment.
TIP: Stains on carpet can be easily cleaned by water with vinegar.
SIZE
Thickness: 1,5 cm; 2,5 cm; 3,5 cm and 4,5 cm.
Width: 100 cm or 200 cm.
Length: 1 – 30 m.
MORE
Standard lengths of gymnastic carpets are from 6 to 14 metres. We can produce standard lengths, or any lengths up to 30 metres. We adjust dimensions to your needs.
When you buy from a seller, you have to choose from the goods he has in stock. When you buy from a producer, you order and we tailor the final product to meet your individual requirements. You can choose the thickness and the length of the carpet.
The most common orders are 14 metres from which gymnastic floors are assembled.
CARPET OPTIONS
With slits – the foam has special cuts on the underside. Gymnastic carpets with slits can be rolled up by one person easily. It can be rolled up with carpet on the inside and the foam on the outside which protects the carpet from unwanted damage.
Double-sided hook and loop fasteners (for connecting individual rolls of gymnastic carpets together) are supplied in two colours, the same colour as the carpet (width 8cm), and white (width 5cm), for marking the exercise area.
Standard – when not in use should be rolled up with carpet on the outside and the backing foam in the middle of the roll.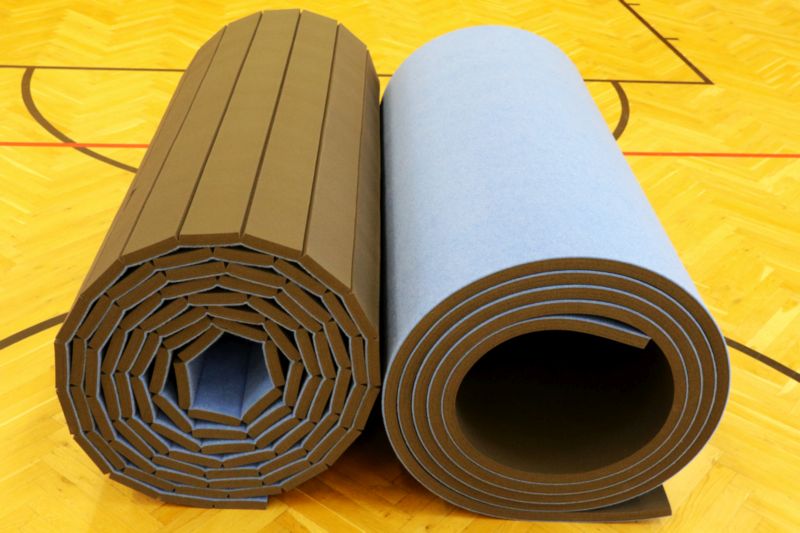 MORE
Gymnastic carpet with slits has the huge advantage of being easily rolled up by one person only. When it it necessary to roll the carpet up and put it away after every exercise, then this is the perfect option.
Standard gymnastic carpet is of better quality and more solid (because the foam is undivided), it is easy on the eye, the whole area is compact. To roll the carpet up there need to be two people.
Standard colours of carpet go together with double-sided hook and loop fasteners. It means that the fastener has hooks on the bottom side and moss on the upper side. The moss feels very soft and nice when touched.
The feeling, when you touch the moss and when you touch the carpet is similar, the moss is not rough. One-sided hook and loop fasteners have also hooks on the bottom side, the upper side is made of plastic.
The hook and loop fasteners are supplied in two colours. One colour is the same as the carpet, this is meant for safe connection of individual rolls of the gymnastic carpet and it is 8 centimetres wide. The second colour is white, this is to mark the exercise area and it is 5 centimetres wide. White hook and loop fastener is also double-sided with moss on the upper side.
RECOMMENDATION
When in use we recommend that gymnastic carpets are always laid on a firm base. A
soft base, such as soft foam, is unsuitable, as tears and damage can occur in the carpet
with harder landings.
Polyethylene foam expands and shrinks with changes of temperature. For this reason
our carpets are always a bit longer.